Medical Tourism for Weight Loss Surgery
Medical Tourism For Weight Loss Surgery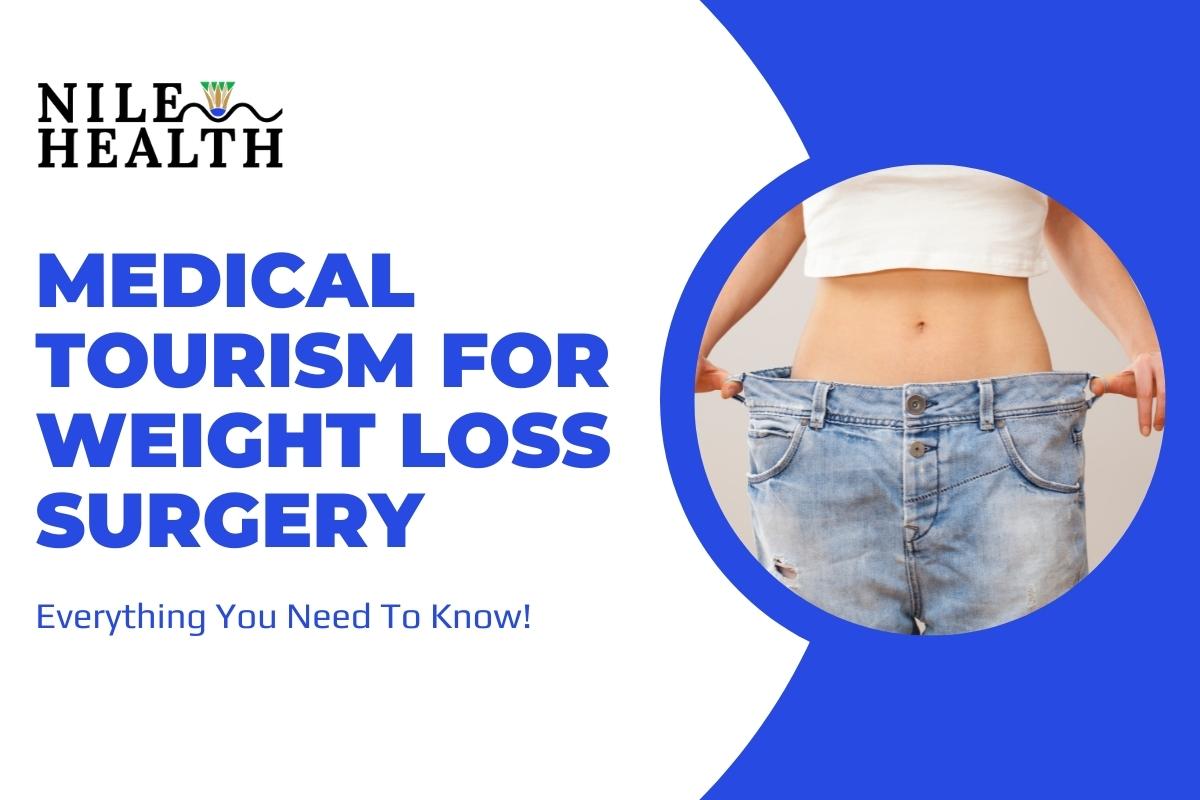 Medical tourism for weight loss surgery has become a popular alternative for people looking to lose weight. Many countries like Egypt, Canada, India, and Mexico have emerged as medical tourism destinations since they provide exceptional medical services at reasonable rates. For example, weight loss surgery in the United States costs an average of $20,000, but bariatric surgery in Egypt starts from $4,395.
Medical tourism refers to people travelling to another country for medical treatment. Originally, individuals from underdeveloped nations would go to developed countries for medical care due to the better medical care and quality of facilities.
However, as the medical industry has advanced in many parts of the world, the situation has shifted. People from industrialized nations now go to other countries for medical care, primarily to access lower treatment costs. In 2016, over one million Americans travelled overseas for medical reasons.
Top Medical Tourism Destinations in the World for Weight Loss Surgery
Here are the most visited countries for weight loss surgeries in the world:
Mexico

Belgium

USA

Thailand

India

Egypt

Costa Rica
Cost Comparison – Weight Loss Surgery Across the World
Prices for weight loss surgery differ from one location to another. In Egypt, a weight loss surgery costs an average of $4,395 compared to the United States, where weight loss surgery costs an average of $20,000. Prices vary according to doctors' salaries, office rent and other overhead costs, including the overall cost of living.
Below is an overview of cost comparison of weight loss surgery in different countries.
| | | |
| --- | --- | --- |
| Country | Weight Loss Surgery | Gastric Bypass |
| USA | $20,000 | $23,000 |
| Canada | $19,000 | $21,000 |
| Egypt | $4,395 | $5,495 |
| Costa Rica | $12,650 | $14,900 |
| India | $6,000 | $7, 48o |
| Australia | $11,500 | $13,000 |
Source: Medical Tourism Corporation
According to the data above, Egypt and Costa Rica are less expensive choices for Americans and Canadians. Australians might consider weight reduction surgery in India, where prices are nearly 50% cheaper.
Medical Tourism For Weight Loss Surgery in Egypt
In recent times, Egypt has become a popular medical tourism destination for weight loss surgery. Because of its low cost of living and high-quality medical services at affordable costs, it has attracted thousands of patients from all parts of the globe. Moreover, good political relationship to the United States and Canada has an added benefit in drawing patients from these nations.
Dar Al Fouad Hospital, South Sinai Hospital, Sharm El-Sheikh, and Ganzouri Specialized Hospital are popular weight loss surgery centers in Egypt.
Nile Health is a leading medical tourism company. We are committed to helping individuals get the best medical tourism for weight loss in Egypt and other parts of the world. We have also helped numerous individuals with expert services in arranging almost every aspect of their weight loss surgery procedures, from choosing the best location to flight and hotel reservations.
Factors To Consider Before Choosing Weight Loss Surgery Abroad
Before embarking on medical tourism for weight loss, you need to consider the following factors:
The most important factor to consider is the quality of medical treatment at the location. Examine the accreditations of the hospital/clinic and the physicians you intend to use. Consider the surgeon's overall experience and success rate, the selected organization's staff eminence, and the help they can offer you before and after your weight loss surgery.
A person seeking medical tourism should examine the cost of weight loss surgery in different nations. This aids in selecting the most cost-effective one. However, picking a low-cost alternative should not compromise service quality. Inadequate medical care can be harmful. Compared to the United States, weight loss surgery in Egypt is 70% less expensive without jeopardizing quality.
Choose a destination that is closer to one's native country. This would spare a person from having to travel. It would also provide a convenient post-surgery recovery period. 
Before treatment, it is critical to study the ratings and reviews of the medical tourism firm, facility, and surgeon. It is now simple to contact previous patients who have already undergone surgery on social media channels such as the organization's Facebook and Instagram accounts.
The Advantages of Medical Tourism
The advantages of medical tourism can be enormous, especially if you take the tips shared I'm this article seriously while preparing for your trip. Here are the benefits of medical tourism:
One of the primary advantages of having weight loss surgery performed abroad is the possibility of accessing high-quality medical operation at a lesser cost. This is the number one reason so many people want to go overseas, since you may save anywhere from 30-80% off the fees you'd spend in a country like the United States. Medical tourism may be the most cost-effective alternative even when travel expenses are considered.

Because most health insurance policies do not cover weight loss surgery, medical tourism might provide you with the services you require. Even if your operation is covered by insurance, you may discover that the out-of-pocket costs for treatments in your own country are more than the cost of traveling to another nation for the procedure.

You get to enjoy your vacation and recover privately. Many people choose to have weight loss surgeries and other treatments performed in another country so that they may recover pleasantly in a serene environment without interruptions from family or friends.

Improvement in global medical care standards and technological improvements in the healthcare profession have enhanced health care throughout the world, providing patients with more alternatives.

Many of the medical professionals who provide services to patients from other countries have been trained and certified in Western countries such as the United Kingdom and the United States.

More and more countries are being recognized by international organizations to demonstrate their expertise, and some of them are members of the National Institutes of Health (NIH).
Medical tourism is a wonderful choice for those who want to lose weight but lack the financial means to do so. The cost-effectiveness of this alternative has raised its popularity dramatically in recent years, and this trend is expected to continue. Furthermore, the effectiveness of surgical procedures in many countries, which wasn't possible before, has functioned as a stimulant, boosting the number of medical tourists each year.
At Nile Health, we give you the best medical tourism information and connect you with the right surgery centers. Contact us today to get more updates on medical tourism for weight loss surgery and other health concerns.
Health Monitoring & Active Care